Si su familia está en busca de servicios, llame a la línea gratuita y confidencial de Seneca al 844-529-3327. Para obtener más información sobre Todo Por Mi Familia, envíe un correo electrónico a info@todopormifamilia.org.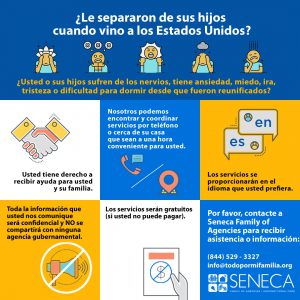 En noviembre de 2019, un tribunal federal ordenó al Gobierno de los Estados Unidos a proporcionar servicios inmediatos de salud mental a miles de familias que fueron separadas en la frontera bajo la "Póliza de Cero Tolerancia" y que aún permanecen en los Estados Unidos. La orden es el resultado de una demanda colectiva, Ms. J.P. v. Barr, presentada en nombre de tres madres centroamericanas que fueron separadas de sus hijos después de cruzar la frontera de los Estados Unidos en busca de asilo.
Seneca Family of Agencies, una agencia de salud mental sin fines de lucro, lidera Todo Por Mi Familia, un esfuerzo nacional para conectar a las familias afectadas con evaluaciones y tratamiento de salud mental. Durante los últimos dos años, Seneca ha apoyado la demanda colectiva como testigo experto y consultor pro bono. Seneca está coordinando las referencias a proveedores locales de salud mental para las familias interesadas que fueron afectadas por la póliza del Gobierno. Todos los servicios serán gratuitos, confidenciales y se llevarán a cabo en el idioma preferido de las familias.
---
If you are a family seeking services, please call Seneca's toll-free, confidential hotline at 844-529-3327. For more information about Todo Por Mi Familia, email info@todopormifamilia.org.
In November 2019, a federal court ordered the United States Government to provide immediate mental health services to thousands of families that were separated at the border under the "Zero Tolerance Policy" and who remain in the United States. The order is a result of a class action lawsuit, Ms. J.P. v. Barr, brought on behalf of three Central American mothers who were separated from their children after crossing the U.S. border seeking asylum.
Seneca Family of Agencies, a non-profit mental health agency, is leading Todo Por Mi Familia, a nationwide effort to connect impacted families with mental health assessments and treatment. Over the last two years, Seneca supported the class action lawsuit as a pro bono expert witness and consultant. Seneca is coordinating referrals to local mental health providers for interested families who were impacted by the Government's policy. All services will be free, confidential, and conducted in the families' preferred language.
Infographics
Todo Por Mi Familia (English)
Todo Por Mi Familia (Spanish)
Media
LA Times
People En Espanol (English)
People En Espanol (Spanish)
POPSUGAR Latina
HOLA! USA (English)
HOLA! USA (Spanish)
El Diario (Spanish)
LA Times (Spanish)
Un Nuevo Día (Spanish)
San Jose Earthquakes
Siempre Mujer (Spanish)
Refinery29

For more information, follow us on Facebook, Instagram, or visit Seneca's YouTube channel. If you're interested in supporting this program, you can make a donation or provide a tablet for telehealth services.